Fiji Yasawa Islands Explorer Cruise & Luxury 5* Private Island Stay
Includes a luxury five-star hotel stay at Shangri-La's Fijian Resort & Spa, nestled on Fiji's Coral Coast
Save up to $1,500 per couple | 5* Luxury Hotel Stay in Fiji | 4 Night Discovery Cruise
Get the full experience...
Explore Fiji's heavenly Yasawa Islands archipelago on a small ship discovery cruise on board MV Reef Endeavour, paired with a five-star hotel stay on Yanuca Island.
You'll begin your holiday by flying to Viti Levu, before transferring to the five-star Shangri-La's Fijian Resort & Spa, a tropical beach resort, nestled on Fiji's private Yanuca Island, boasting spectacular views of the Pacific. Overlooking Vita Levu's idyllic Coral Coast on one side and its own private beach and lagoon on the other, this charming resort offers an authentic and private Fiji island experience.
Your four-night hotel stay here offers intimacy and convenience, and promises a different experience, every day. Whether you're looking to escape on an exclusive, adults-only experience, or spend time with your family, you'll be spoilt for choice with the wealth of thrilling entertainment and activities on offer. Rise with the sun and enjoy a morning dip in the sparkling Fijian lagoon, grab a snorkel and discover the mesmerising marine life that inhabit the colourful coral reefs, try your luck on the inflatable water park or feel revitalised at the resort's tranquil, secluded and luxurious spa with soothing, complimentary treatments, inspired by natural healing methods.
The Reef Wing is an exclusive adult's only oasis. With access only available to guests staying in the area, you'll feel like you've found your own private paradise, the area has its own dedicated arrival access, check-in, lunchtime dining option and an adults-only infinity pool. Indulge with complimentary cocktails and canapes daily from 5pm, golf green fees, turn down gifts and a bottle of wine on arrival.
Bring your days to a fabulous close with a choice of five dining concepts that range from fresh local seafood to Pan-Asian dishes, before admiring the warm amber hues of the setting sun across the glittering waves, with your favourite cocktail at Bilo Bar.
Following your stay, you'll embark MV Reef Endeavour for your unforgettable tour of the idyllic Yasawa Islands.
Sailing on this superb, purpose-built ship you'll find a casual and relaxed ambience, with attentive crew and staff, plus an expert marine biologist on hand to offer fascinating presentations that will enhance your enjoyment of the places you visit and the cultures you experience. This intimate but spacious ship also features a mini gym, swimming pool and sun-deck spa to add to your creature comforts at sea.
The Yasawa Islands archipelago is located north west of Viti Levu and comprises 16 islands strung out over a distance of 90 kilometres. With no cars on the island, it adds to the air of tranquillity. You'll first stop at Naviti, the largest of the islands and home to palm-fringed powdery beaches untouched by the modern world. Swim with shoals of manta rays and meet the friendly locals at the villages dotted around the coast.
At Yasawa Island, you could take a walking trail to Mount Tamasua or snorkel among the vivif coral gardens, ending the day with fun crab racing on the shores.
Sawa I Lau is undoubtedly one of the highlights of your cruise. Here you'll find enchanting, multi-chambered sea caves and a stunning blue lagoon that are the source of local myths and legends. It's a great opportunity to take a swim in a truly enchanting setting. You'll then sail on to Drawaqa, another superb location in which to don your snorkelling mask and delve into the marine delights.
Your cruise ends back in Denarau where you'll disembark and transfer to the airport for your flight back home.
Package Includes
All flights, taxes & transfers
Hotel Stay
4 night five-star hotel stay at the Shangri-La Yanuca Island, Fiji in a Reef Deluxe Room in the adult only wing
Complimentary additions include:

Daily breakfast

Daily pre-dinner drinks and canapés

A lunch and dinner for two adults
30 minute massage for two adults

5 new dining concepts and three bars, all on the waterfront
Enjoy a private pool and adults-only dining and cocktail hour
Tee off on the premier 9-hole Peter Thompson-designed golf course
Cruise
4 night Fiji discovery cruise on board MV Reef Endeavour with all meals and entertainment
Island hop the Mamanuca & Yasawa Islands
All excursions and sightseeing
Use of snorkel, kayaks and stand-up paddle boards
At a glance
Departing Mar 22 - Mar 23

Prices from
Ocean Stateroom
Price based on 10 Mar 2023 departure
Porthole Cabin
Price based on 05 Aug 2022 departure
Tabua Suite
Price based on 10 Mar 2023 departure
Here to help
Call to book:
(09) 941 2549
Opening hours:
Mon to Fri: 10am - 8pm | Sat & Sun: 12pm - 8pm
MV REEF ENDEAVOUR
Intimate yet spacious, this charming ship, originally designed to cater for 168 passengers, has been significantly refurbished to accommodate for less guests and to create even more space and comfortable public areas. Features of this fantastic ship include a swimming pool and sun deck, 2 lounges, spa and mini gym, WIFI, a library, a gift shop and two bars.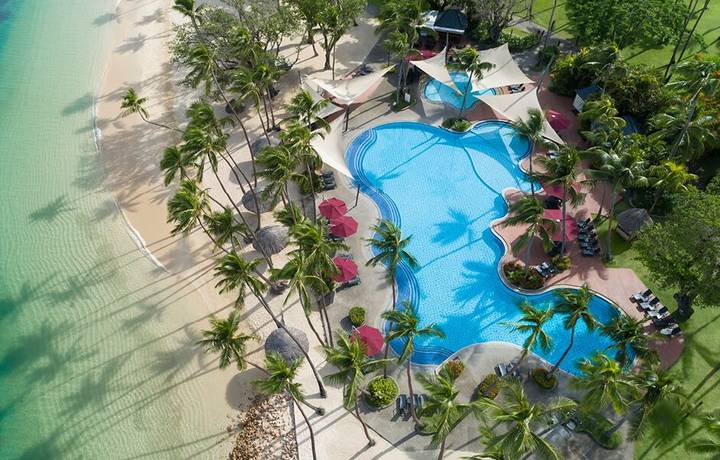 Arriving in Fiji, you'll transfer to Shangri-La's Fijian Resort & Spa nestled on a private island that overlooks both Viti Levu's idyllic Coral Coast and the island's private beach and stunning lagoon. Enjoy several days soaking up the sun and exploring the soft coral gardens and blue waters of this island paradise. Perfect for both couples looking for an exclusive romantic getaway, and families seeking to spend some quality time together, you'll find a range of activities to immerse yourself in. Savour delicious flavour from one of the five restaurants, explore the island's surroundings by water, either on a jetski or kayak, unwind in the lavish spa and marvel at the breathtaking sunsets from the Bilo Bar.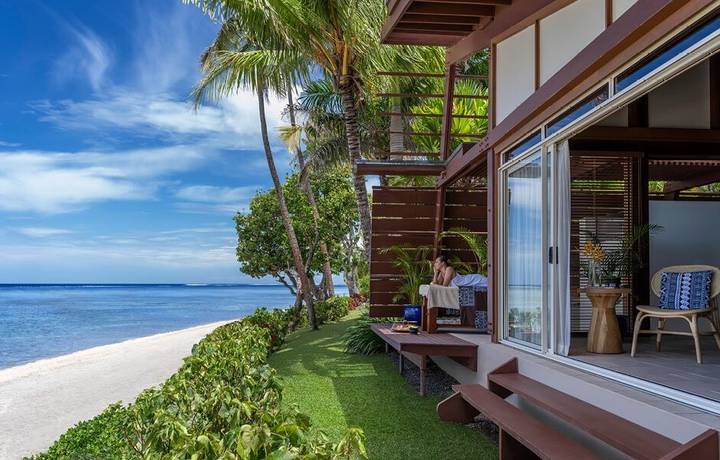 Rise with the sun and head out for a refreshing morning swim from one of the three pools or the turquoise lagoon. Or if the relaxed-way of living is more your thing, start your days slowly from the comfort of your balcony and admire the sweeping views. You'll then have the day to spend however you like. Adrenaline junkies can try their luck at the inflatable water park or explore the crystal waters on a jetski; those who wish to unwind can indulge in a complimentary, pamper treatment from Chi, The Spa, escape to the adults-only sanctuary or discover the Shangri-La Marine Education Centre.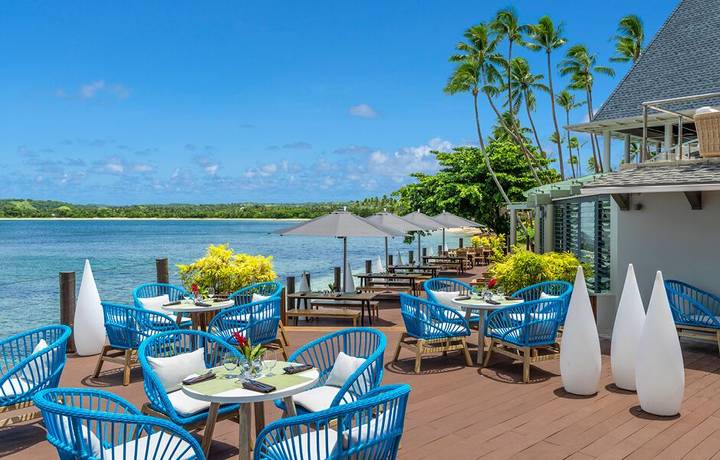 Shangri-La's trump card is its abundance of dining options, all sourcing the freshest and highest quality produce in Fiji. Your luxury resort boasts five new dining concepts and three exquisite bars, all situated on the waterfront, providing a fantastic backdrop as you savour magnificent flavours. Start your day with a generous buffet from the Lagoon Terrace, for lunch, why not tuck into fresh local seafood at the Beach Bar & Grill, and for dinner, choose between contemporary Pan-Asian plates at Takali Asian Kitchen or authentic Italian at Golden Cowrie Coastal Italian. Don't miss the opportunity to watch the sun set from Bilo Bar.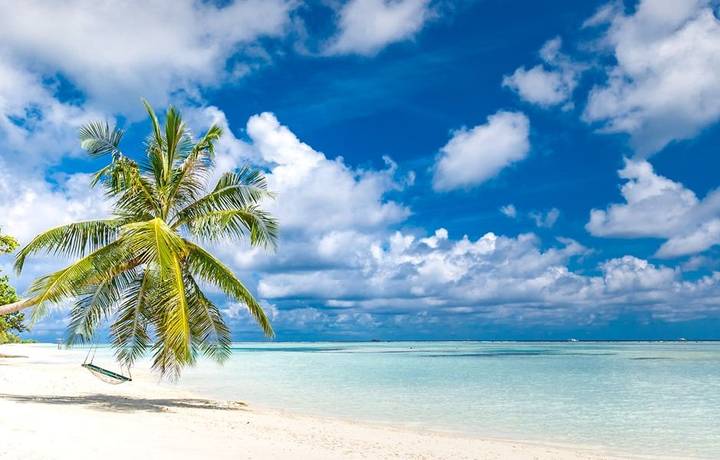 Today, spend some time away from your hotel to explore the captivating treasures of Yanuca. An inhabited coral island in Fiji's Lomaiviti Archipelgao, it's characterized by soft-white sandy beaches and thick lush vegetation. Spend a lazy day at Natadola Beach, one of the island's most popular sights. Escape to Momi Bay to learn more about the local history of Momi, embark on a Coral Coast tour and pay a visit to a traditional village or enjoy a full-day Round the Island Viti Levu Tour.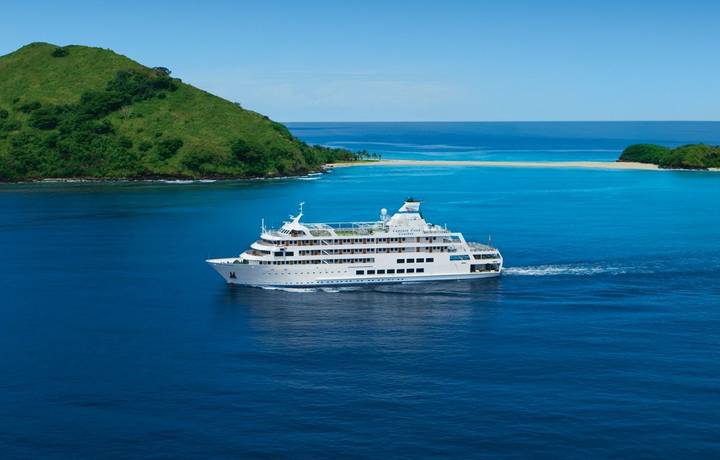 Denarau Island
- Embark MV Reef Endeavour
Today you'll embark the intimate MV Reef Endeavour. Catering for up to 130 passengers, this purpose-built ship ensures a casual and relaxed atmosphere in which every passenger receives personal attention. A Resident marine biologist offers fascinating presentations relating to your destinations, while a mini gym swimming pool and sun-deck spa add to your creature comforts at sea. Join the Gala Captain's Dinner in the evening where you'll get acquainted with captain and crew.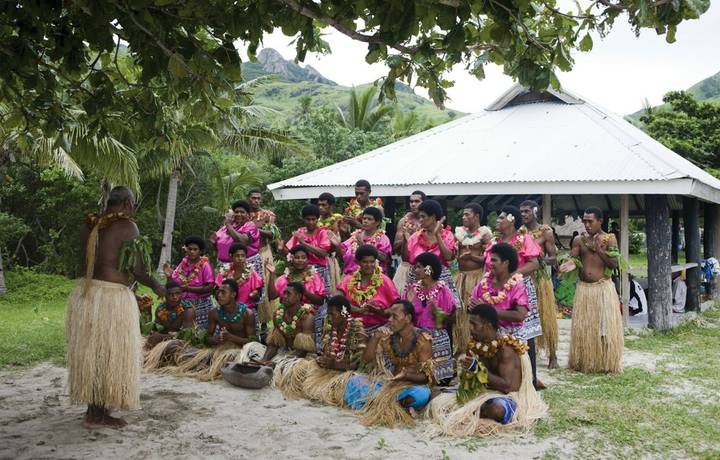 Naviti is the largest island within the Yasawa chain and is home to clusters of friendly fishing villages and paradise beaches untouched by modernity. Snorkelling in the shallow waters is encouraged and you can swim with manta rays, while in the evening you can expect delightful Fijian cultural performances. The island also has some of the highest points on the Yasawa Islands and a hike to one of several vantage points affords superb views.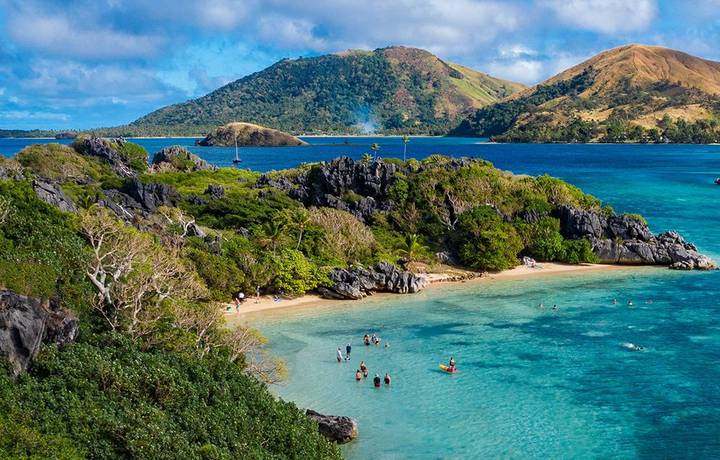 Today you'll explore Yasawa Island, the northernmost island of this beautiful archipelago and home to Mount Tamasua. You could take a walking trail to its summit or explore the abundant coral gardens off the shore, with their diverse marine life. Like all the islands, there are no cars here, enhancing the laid-back and idyllic atmosphere. In the evening there are fun crab races to take part in with your fellow passengers on the powdery white-sand beach.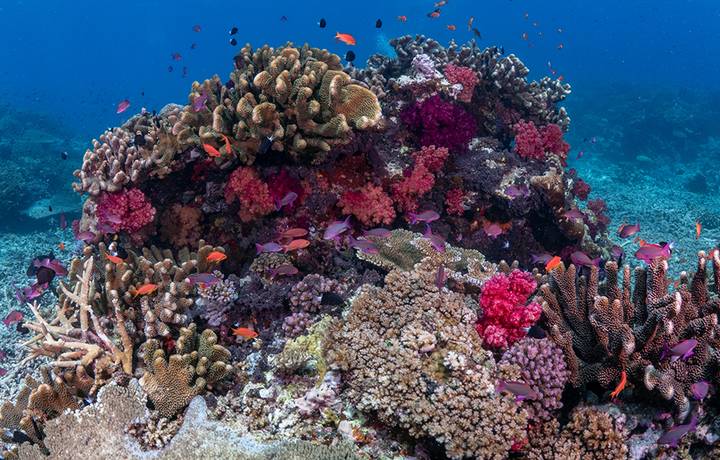 Sawa
-I-Lau (Drawaqa Island)
Sawa-I-Lau, one of the highlights of the island chain, is home to the famous limestone caves and aqua blue lagoon, in which you can swim and snorkel. Learn about the local myths and legends associated with the caves, where sunlight filters down through a cavity in the ceiling. Another key island of the Yasawa group is Drawaqa Island where you can dive with curious manta rays and other species. Finish your day with a fun music quiz where you can dance into the night.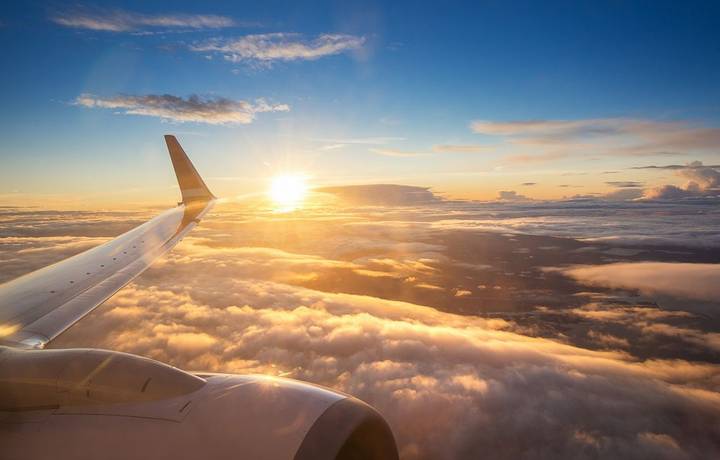 Denarau Island
- Disembark MV Reef Endeavour & Fly Home
Today you'll disembark MV Reef Endeavour at Denarau Island and head to the airport for your flight back home.
Welcome aboard the MV Reef Endeavour
The MV Reef Endeavour is small enough to reach destinations that are inaccessible to larger ships and caters for no more than 130 passengers, ensuring an intimate and relaxed atmosphere. Spend your time at sea in the mini gym, taking a dip in the swimming pool or relaxing in the sun-deck spa, while a resident marine biologist is on hand to give presentations.
63 suites on four levels of accommodation
Two lounges, two bars and single-sitting main dining area
Swimming pool and spacious sun-deck
Free WiFi
Spa and mini-gym

63 suites on four levels of accommodation
Two lounges, two bars and single-sitting main dining area
Swimming pool and spacious sun-deck
Free WiFi
Spa and mini-gym
Your Hotel Information
Shangri-La Yanuca Island, Fiji
The Shangri-La Yanuca Island, Fiji resort is an award-winning hotel nestled on its own private island. It boasts outstanding views over Viti Levu's enchanting Coral Coast and the hotel's own private beach and lagoon. Suitable for both couples seeking a romantic getaway and families looking to make memories, you'll find something for every moment and mood, from an inflatable water park to thrilling jetski rides, and sumptuous spa treatments to fabulous sporting facilities. Rooms are light, airy and sophisticated, each with their own private balcony so you can admire the views. With five unique dining concepts ranging from Italian to Pan-Asian, you'll be spoilt for choice on what to try first. Other amenities include three pools, an adults-only sanctuary, a premier 9-hole Peter Thompson-designed golf course and a lavish spa.
GENERAL INFORMATION
• Transfer time approx. 55 minutes
• Number of rooms: 443
• Beach access
• 24-hour room service
• Laundry & Valet service
• Spa & Fitness centre
• Wi-Fi
• 5 Restaurants
• 3 Bars
• 3 pools
• Water sports
regional flights available at a supplement
CALL TO BOOK:
(09) 941 2549
HOLIDAY CODE:
CRU2354