Galapagos of the Southern Ocean Expedition Cruise
Visit four of the Subantarctic Islands off the New Zealand Coast
Just Launched for Nov & Dec 2021 | Visit Four of the Subantarctic Islands off the New Zealand Coast
Get the full experience...
Before embarking Spirit of Enderby at Otago Harbour you'll stay overnight at the delightful South Island city of Dunedin. Get acquainted with fellow passengers at your hotel over a casual dinner as you look ahead to your voyage around a spectacular region often referred to as the Galapagos of the South.
Boarding your custom-built expedition ship the next morning, you'll then settle into your comfortable surroundings as you head for The Snares. This cluster of rugged islands, the largest of which is North East Island, is a windswept haven for an array of seabirds. Spot everything from terns to red-billed gulls cluttering the sky, while penguins dot the shoreline.
At Enderby Island, your next destination, you'll find native populations of sea lions and penguins that are flourishing since all introduced species were removed from the island in the 1990s for conservation reasons. Part of the Auckland Islands archipelago, it's a place of desolate beauty, with intriguing rock formations along its coastline. Also in the Auckland Islands you'll find Carnley Harbour, an untamed landscape where whalers and sealers struggled to establish themselves over the centuries, so harsh is the terrain. These days its inhabited only by wildlife that includes numerous bird species and seals, while a number of old shipwrecks lurk in the waters around it.
Macquarie Island, a UNESCO World Heritage Site, is a seal paradise, with several species usually on display along the rocky shores. Once considered too inhospitable to be a penal settlement, it's now inhabited by tiny population of part-time residents. From here you'll head to your final destination, Campbell Island. Explore this remarkable place on foot and discover the large and vivid herbaceous flowers that bring a splash of colour to the barren beauty. You'll spend two days here – plenty of time to marvel at the coves and sea stacks that dot the shoreline. Enjoy the scenic sailing and reflect on your adventure as you make your way to the Port of Bluff before transferring to Invercargill.
Package Includes
All flights, taxes & transfers
Expedition Cruise
12 night full-board expedition cruise on board Spirit of Enderby
Overnight stays in port in Macquarie Island and Campbell Island
Take thrilling on-shore excursions accompanied by experienced guides
Witness the abundant wildlife, including diverse seal and bird species, at close hand
Discover the colourful megaherbs - colourful plants that are unique to the New Zealand Subantarctic region
Hotel Stay
1 night four-star hotel stay in Dunedin with breakfast
At a glance
Departing Nov 21 - Dec 21

Prices from
Main Deck
Price based on 18 Dec 2021 departure
Superior Plus
Price based on 30 Nov 2021 departure
Mini Suite
Price based on 30 Nov 2021 departure
Heritage Suite
Price based on 18 Dec 2021 departure
Superior
Price based on 18 Dec 2021 departure
Here to help
Call to book:
(09) 941 2549
Opening hours:
Mon to Fri: 11am - 8pm | Sat & Sun: 11am - 6pm
Enderby Island
Enderby Island is part of the Auckland Islands archipelago and is the largest and most beautiful islands in the group. Surrounded by cliffs and rocky shorelines, it's a great birding location and offers the chance to see a wealth of species from the famous Southern Royal Albatross and Northern Giant Petrel to parakeets and the endemic snipe. The island's landing point of Sandy Bay is also home to a breeding colony of the New Zealand Sea Lion.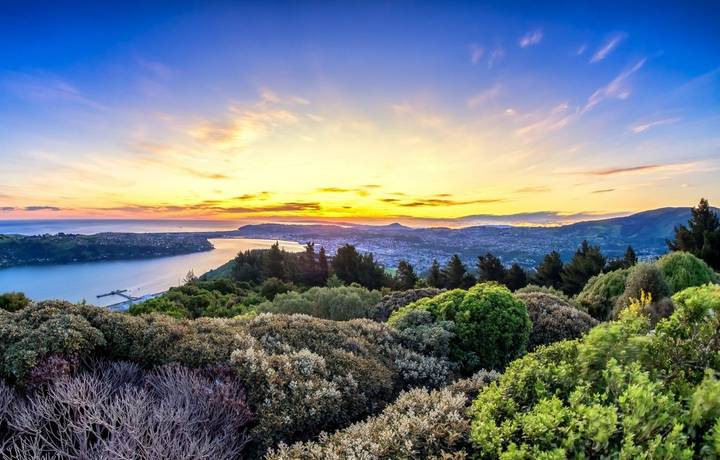 Arrive in the South Island city of Dunedin, with its Scottish heritage and historic and cultural attractions. You'll transfer to your hotel for an overnight stay, during which you'll get acquainted with your fellow voyagers and expedition staff for a casual get-together over dinner. The following morning you will be transferred to nearby Otago Harbour where you will embark the Spirit of Enderby for your thrilling voyage to the Galapagos of the Southern Ocean.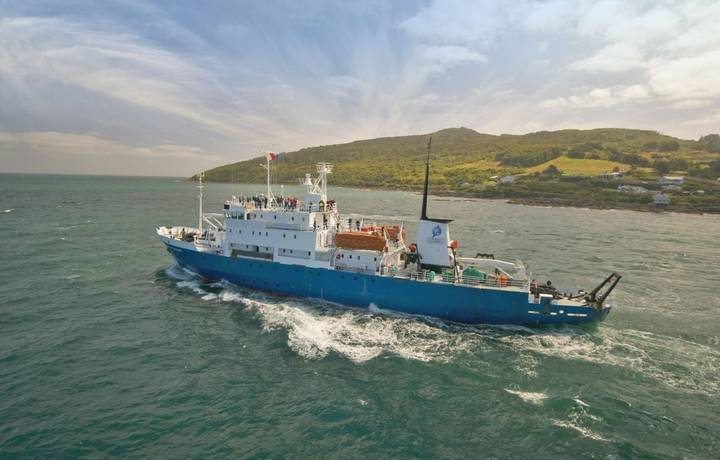 Otago Harbour
- Embark Spirit of Enderby
Settle in for a voyage of spectacular sights and memorable experiences as you depart Otago Harbour on the Spirit of Enderby. This purpose-built expedition vessel is infused with the spirit of adventure having been originally built for polar and oceanographic research. Carrying up to 50 passengers, it features an area that combines as a bar lounge and library, as well as dedicated lecture theatre room and comfortable cabins – all with windows or portholes.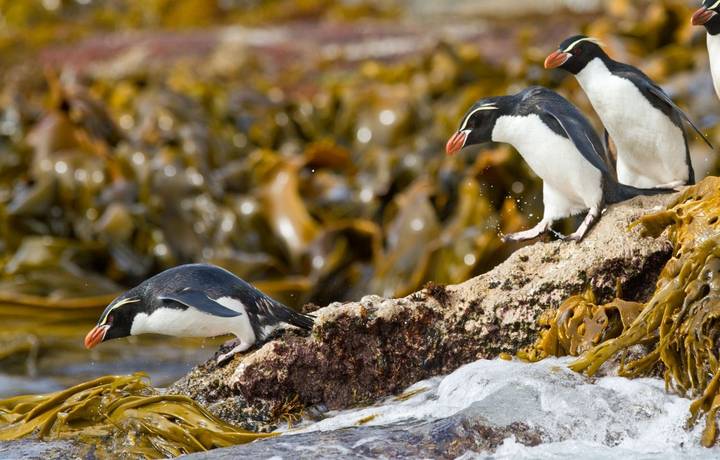 North East Island, The Snares
Also known as 'Tini Heke' – its Maori name – The Snares comprise a cluster of remote and uninhabited islands lying 200km off the coast of southern New Zealand. The T-shaped North East Island is the largest of the islands and is home to an immense seabird population ranging from red-billed gulls to Antarctic terns. Cruising its jagged coastline in a Zodiac, you're also likely to spot crested penguins along the shore and Buller's albatross soaring over the sheer cliffs. The Snares remain one of the last areas in New Zealand unscathed by modernity.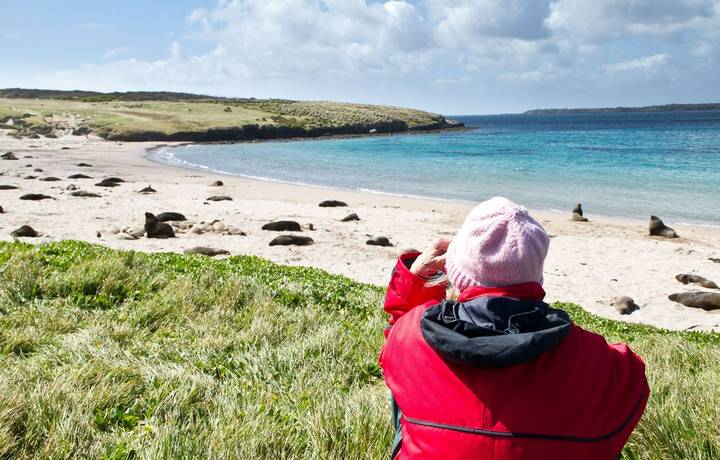 Enderby Island, Auckland Islands
Enderby Island is the largest of the Auckland Islands archipelago and a place that's teeming with native wildlife thanks to all introduced species being eradicated in the 1990s. This included a healthy rabbit population, introduced by Australians in the 19th century to provide food for anyone unfortunate enough to be shipwrecked. Visit Sandy Bay, the main breeding ground for the rare New Zealand sea lion and just one of three breeding grounds on the Auckland Islands. You could also observe the southern royal albatross, northern giant petrel, yellow-eyed penguin and many more avian species.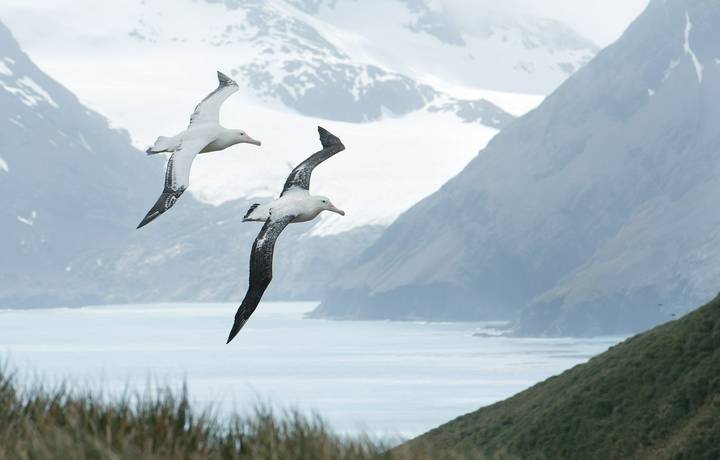 Carnley Harbour, Auckland Islands
Now uninhabited, the Auckland Islands have seen settlers come and go over the centuries, with whalers, farmers and sealers all attempting to establish themselves in this untamed landscape. Off the islands lie numerous shipwrecks from days gone by and its main residents these days are seals and birds. Weather and sea conditions permitting, you could climb to the South West Cape shy albatross colony where Gibson's wandering albatross nest among the tussocks.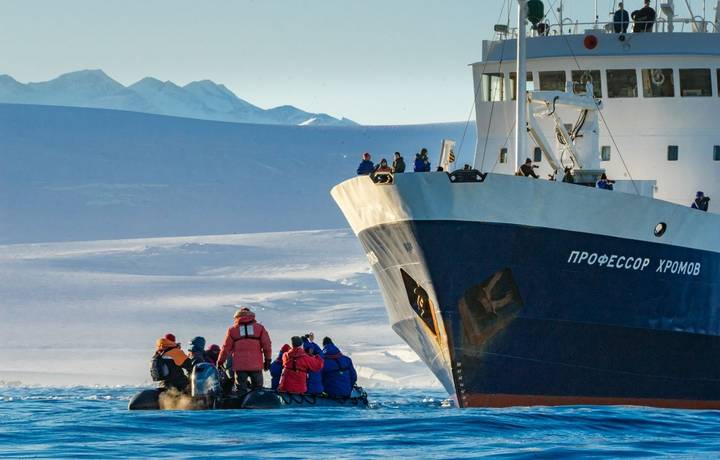 As you make your way through an area known as the Furious Fifties in the foaming waters of Southern Ocean, learn more about the fascinating flora and fauna ahead of your arrival at Macquarie Island. Along the way there are excellent bird-spotting opportunities, with numerous albatross species, northern and southern giant petrels and shearwaters to keep a look-out for, as well as abundant marine life churning up the waves.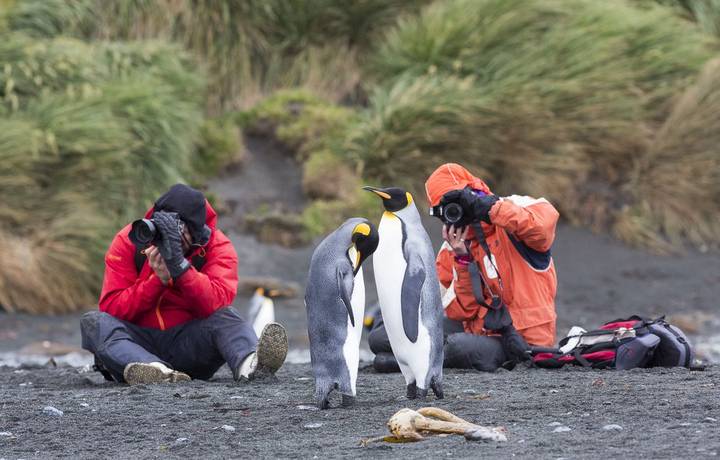 Macquarie Island (Overnight in Port)
A UNESCO World Heritage Site, Macquarie Island is the only place in the world where the crested royal penguin breeds, while three other species of penguins – namely the king, rockhopper and gentoo - also breed here. Witness the captivating drama of a thriving penguin colony, with territorial disputes, chick-rearing, and elaborate courtship displays all played out before your eyes, with southern elephant seals also watching the action from their own vantage point. Your time here will be under the guidance of experienced scientists and Park Rangers.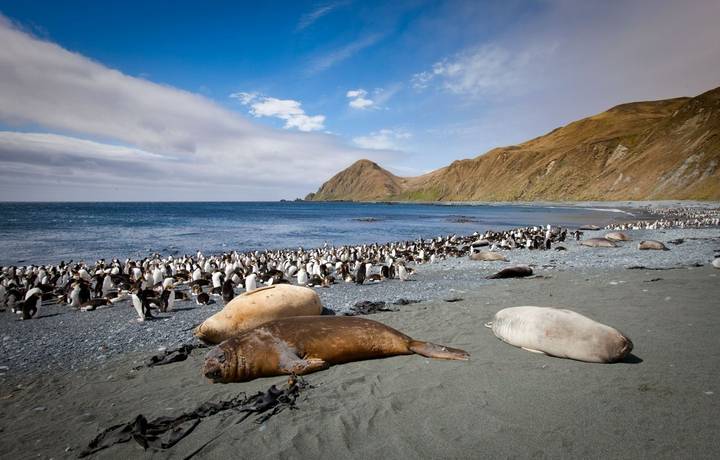 This windswept land was once considered so inhospitable that proposals to turn it into a penal colony were rejected. These days Macquarie Island is populated by no more than 40 non-permanent residents. Several seal species can be found on the island, including Antarctic fur seals and southern elephant seals, while the abundant marine life in the waters surrounding the island include southern right whales and orcas.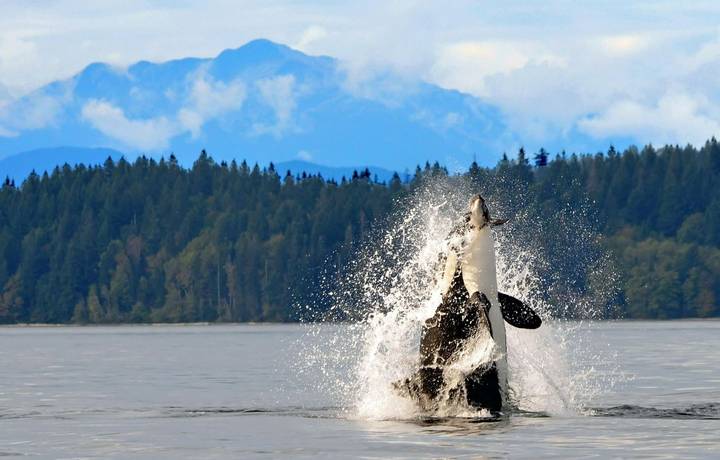 Find a spot on board to take in the scenery as you head north from Macquarie Island through waters teeming with diverse seabirds towards Campbell Island. You could even join the captain on the bridge where you could scan the ocean for signs of whales, with several species found in this region. Today there will also be briefings and lectures on Campbell Island ahead of your visit.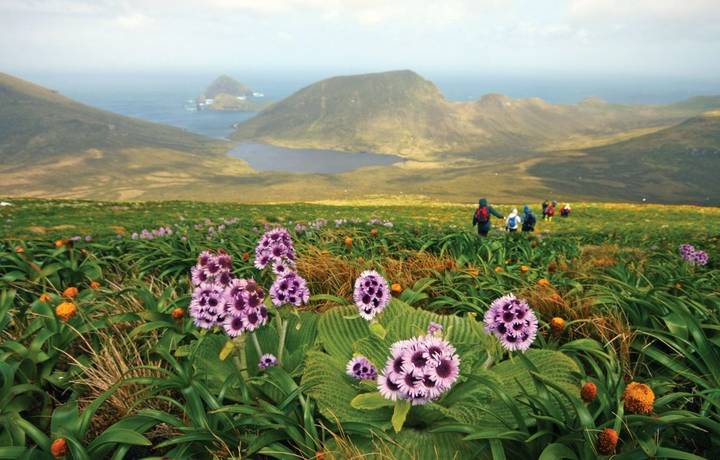 DAY 10 - 11
| 9 - 10 Dec 2021
Campbell Island (Overnight in Port)
Reaching Campbell Island, you'll spend two days exploring its coves, rocky islets and sea stacks. Enjoy a gentle walk to the nesting site of the southern royal albatross and then trek across the hills to Northwest Bay where beautiful megaherbs – large herbaceous flowers – bring a splash of floral vibrancy to this otherwise rugged terrain. These large pink and yellow plants have thrived despite the the harsh conditions.
©TBickford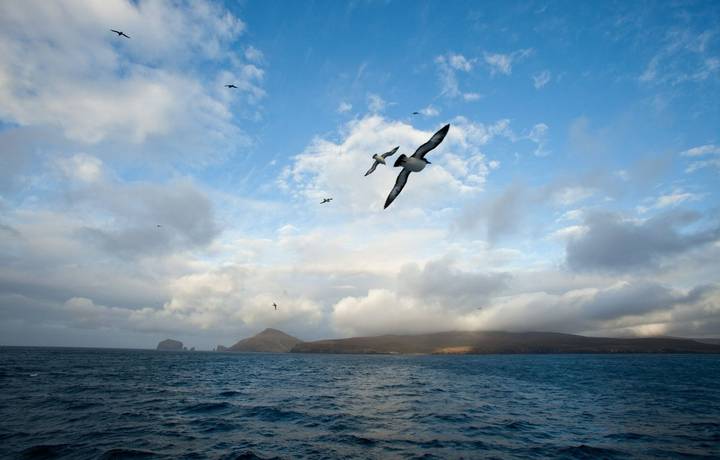 As you sail to the South Island's Port of Bluff, take the opportunity to relax and reflect on your expedition at a farewell dinner. Make a toast to new-found friends and crew as you savour the last leg of your voyage around this remarkable region of the southern hemisphere.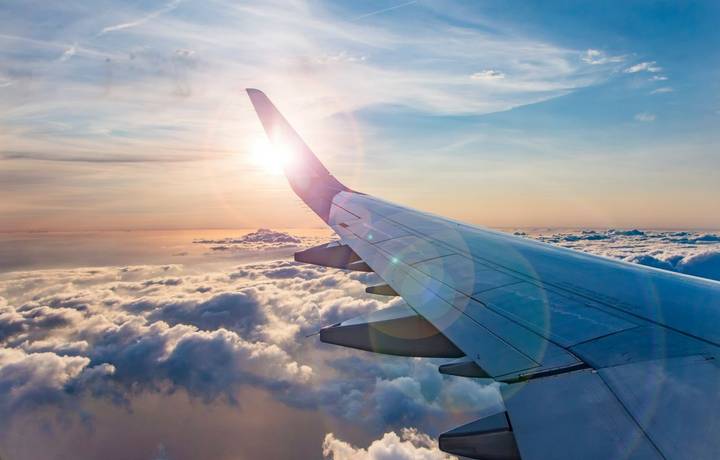 Invercargill
- Disembark Spirit of Enderby & Fly Home
Arrive at the Port of Bluff early in the morning and say farewell to fellow passengers and crew before disembarking and boarding the complimentary coach to downtown Invercargill or Invercargill Airport.
Welcome aboard the Spirit of Enderby
The Spirit of Enderby is a fully ice-strengthened expedition vessel and is the perfect choice for expedition and adventure cruises. Their sole focus with every sailing is getting you ashore as often as possible and for as long as possible. Throughout each stop and excursion, you'll be accompanied by some of the most experienced naturalists and guides who will be able to provide you with valuable information and research in the areas that you visit. Carrying just 50 passengers and following a refurbishment in May 2019, this remarkable ship provides comfortable accommodation, a combined bar and library area, a dedicated lecture room and an exquisite restaurant.
Classification: Russian register KM ice class
Year built: 1984
Accommodation: 50 berths
Shipyard: Finland
Main engines: power 2x1560 bhp (2x 1147 Kw)
Register: Russia
Maximum speed: 12 knots (2 engines)
Cruising speed: 10 knots (1 engine)
Bunker capacity: 320 tons
©Heritage Expeditions

Classification: Russian register KM ice class
Year built: 1984
Accommodation: 50 berths
Shipyard: Finland
Main engines: power 2x1560 bhp (2x 1147 Kw)
Register: Russia
Maximum speed: 12 knots (2 engines)
Cruising speed: 10 knots (1 engine)
Bunker capacity: 320 tons
©Heritage Expeditions
regional flights available at a supplement
Departing
Departing
30 November 2021
Departing
18 December 2021
Departing
Departing
30 November 2021
Departing
18 December 2021
Departing
Departing
30 November 2021
Departing
18 December 2021
CALL TO BOOK:
(09) 941 2549
HOLIDAY CODE:
AUS2543