Discover the bewitching beauty of the Northern Lights and Arctic Circle and the majesty of Scandinavian's heritage cities on this magical North European cruise and tour.
Discover the adventurer within you during stays in a trio of Northern Europe's finest cities and a Hurtigruten voyage as you seek out the spell-binding Northern Lights. Oslo, the capital and most populous city of Norway is where your holiday begins. Enjoy two nights in this fabulous city that's renowned for its cutting-edge architecture, before flying to Bergen, a charming city on Norway's southwestern coast, for an overnight stay. From here, you'll embark your Hurtigruten ship and set sail along the stunning scenery of snow-capped mountains and cascading waterfalls. Passing numerous picturesque spots along the way, you'll be able to discover delightful treasures and witness the phenomenal Northern Lights dancing across the midnight blue skies on your journey through spectacular Scandinavia and its breathtaking Fjords. Highlights enroute include Ålesund, rebuilt in a striking Art Deco style and Trondheim, a vibrant city packed with attractions.
The terrain gets ever more impressive as you pass into the icy realm of the Arctic Circle. Watch for sheer granite cliffs and soaring sea eagles as you savour the delights of villages like Brønnøysund, Batsfjord and tiny Mehamn, set amongst a landscape once roamed by Vikings. At Tromsø, you'll discover the largest city in Northern Norway, where wooden houses date back to the 18th century. Your cruise ends back in Bergen where you'll disembark and fly to Copenhagen, Denmark's capital, for a two-night hotel stay. Seek out the city's iconic bronze Little Mermaid statue, based on the 1837 fairy tale by Hans Christian Andersen, soak up the vibrant atmosphere in Tivoli Gardens, or indulge in a fine-dining experience at Michelin-starred Noma, one of the world's most celebrated restaurants.
The Hurtigruten Experience
Founded in 1893, the Hurtigruten passenger ships are the perfect choice to uncover gems along the stunning Norwegian coast. Referred to as one of the world's most beautiful voyages, for many, a Hurtigruten cruise is a dream trip of a lifetime.
Hurtigruten ships are first-class yet homely, with beautiful art throughout the ships' interior adding contemporary elegance to the maritime ambience. Relax in the panorama lounges and take in the unforgettable views of the wild and rugged coastal scenery, much of it the same as when the first Hurtigruten ships sailed here more than a century ago. Each ship has its own expedition team on board, providing interesting lectures and talks, so you can learn more about the nature, wildlife, geology and culture you'll encounter on your wondrous adventure – making this cruise both an exciting and fascinating educational journey.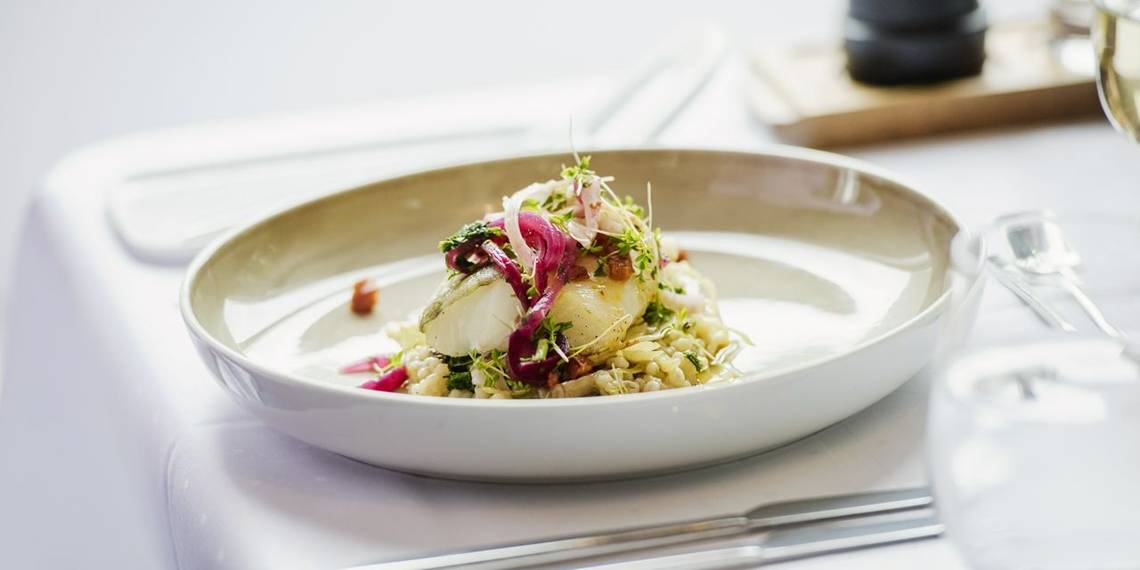 Kysten
Immerse yourself in beautiful views of the fjords while enjoying a wealth of dishes from ultra-fresh seafood to free-range reindeer meat.
Top Deck
The best place to enjoy a Jacuzzi, stargaze or watch the magical Northern Lights dance across the sky.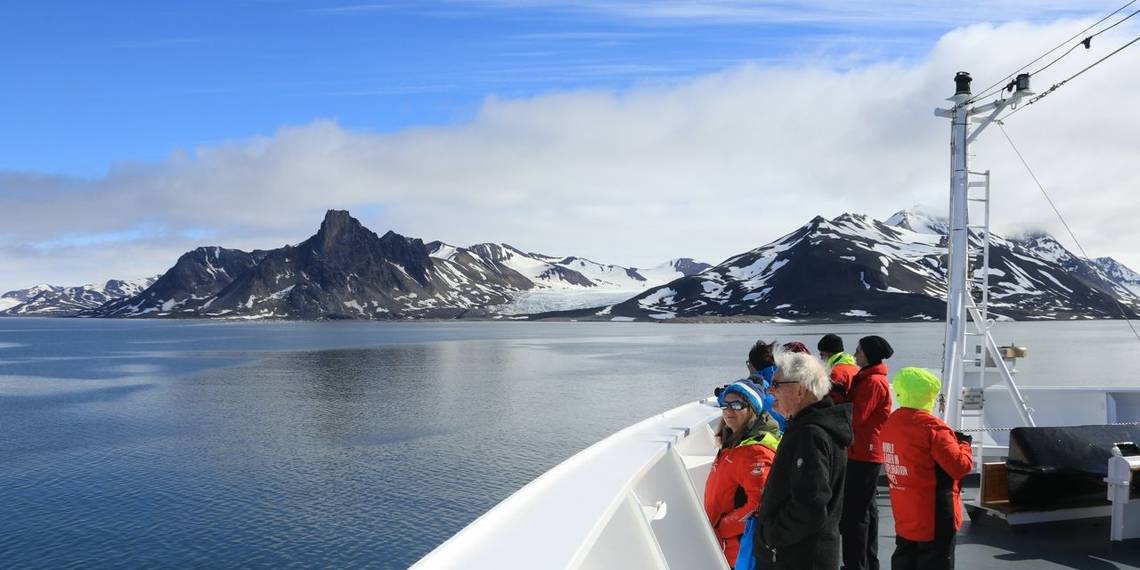 Expedition Team Experiences
Enhance your experience by learning about the nature, wildlife, and culture you'll encounter.
Your 16 Night Holiday Includes
Cruise
11 night cruise of Norway and the Arctic on board Hurtigruten with all meals
English-speaking tour leader on board
Northern Lights Promise - Receive a free Hurtigruten voyage if the Northern Lights do not make an appearance (T's & C's apply)
Hotel Stays
2 night four-star hotel stay at the Scandic Victoria Oslo or similar with breakfast
1 night four-star stay in Bergen at the Zander K Hotel or similar with breakfast
2 night four-star stay in Copenhagen at the Tivoli Hotel or similar with breakfast
All flights, taxes and transfers
Duration: 16 Nights
Itinerary: Oslo, Bergen, Floro, Molde, Kristiansund, Rorvik, Bronnoysund, Svolvaer, Stokmarknes, Skjervoy, Oksfjord, Berlevag, Batsfjord, Kirkenes, Berlevag, Mehamn, Tromso, Stamsund, Bodo, Rorvik, Trondheim, Alesund, Bergen, Copenhagen
Duration: 16 Nights
Itinerary: Oslo, Bergen, Floro, Molde, Kristiansund, Rorvik, Bronnoysund, Svolvaer, Stokmarknes, Skjervoy, Oksfjord, Berlevag, Batsfjord, Kirkenes, Berlevag, Mehamn, Tromso, Stamsund, Bodo, Rorvik, Trondheim, Alesund, Bergen, Copenhagen
Duration: 16 Nights
Itinerary: Oslo, Bergen, Floro, Molde, Kristiansund, Rorvik, Bronnoysund, Svolvaer, Stokmarknes, Skjervoy, Oksfjord, Berlevag, Batsfjord, Kirkenes, Berlevag, Mehamn, Tromso, Stamsund, Bodo, Rorvik, Trondheim, Alesund, Bergen, Copenhagen
Duration: 16 Nights
Itinerary: Oslo, Bergen, Floro, Molde, Kristiansund, Rorvik, Bronnoysund, Svolvaer, Stokmarknes, Skjervoy, Oksfjord, Berlevag, Batsfjord, Kirkenes, Berlevag, Mehamn, Tromso, Stamsund, Bodo, Rorvik, Trondheim, Alesund, Bergen, Copenhagen
Duration: 16 Nights
Itinerary: Oslo, Bergen, Floro, Molde, Kristiansund, Rorvik, Bronnoysund, Svolvaer, Stokmarknes, Skjervoy, Oksfjord, Berlevag, Batsfjord, Kirkenes, Berlevag, Mehamn, Tromso, Stamsund, Bodo, Rorvik, Trondheim, Alesund, Bergen, Copenhagen
Duration: 16 Nights
Itinerary: Oslo, Bergen, Floro, Molde, Kristiansund, Rorvik, Bronnoysund, Svolvaer, Stokmarknes, Skjervoy, Oksfjord, Berlevag, Batsfjord, Kirkenes, Berlevag, Mehamn, Tromso, Stamsund, Bodo, Rorvik, Trondheim, Alesund, Bergen, Copenhagen
Duration: 16 Nights
Itinerary: Oslo, Bergen, Floro, Molde, Kristiansund, Rorvik, Bronnoysund, Svolvaer, Stokmarknes, Skjervoy, Oksfjord, Berlevag, Batsfjord, Kirkenes, Berlevag, Mehamn, Tromso, Stamsund, Bodo, Rorvik, Trondheim, Alesund, Bergen, Copenhagen
Duration: 16 Nights
Itinerary: Oslo, Bergen, Floro, Molde, Kristiansund, Rorvik, Bronnoysund, Svolvaer, Stokmarknes, Skjervoy, Oksfjord, Berlevag, Batsfjord, Kirkenes, Berlevag, Mehamn, Tromso, Stamsund, Bodo, Rorvik, Trondheim, Alesund, Bergen, Copenhagen